2020 WNBA team preview: Chicago Sky
Aftermath of The Heave, a burgeoning superstar and this two-year window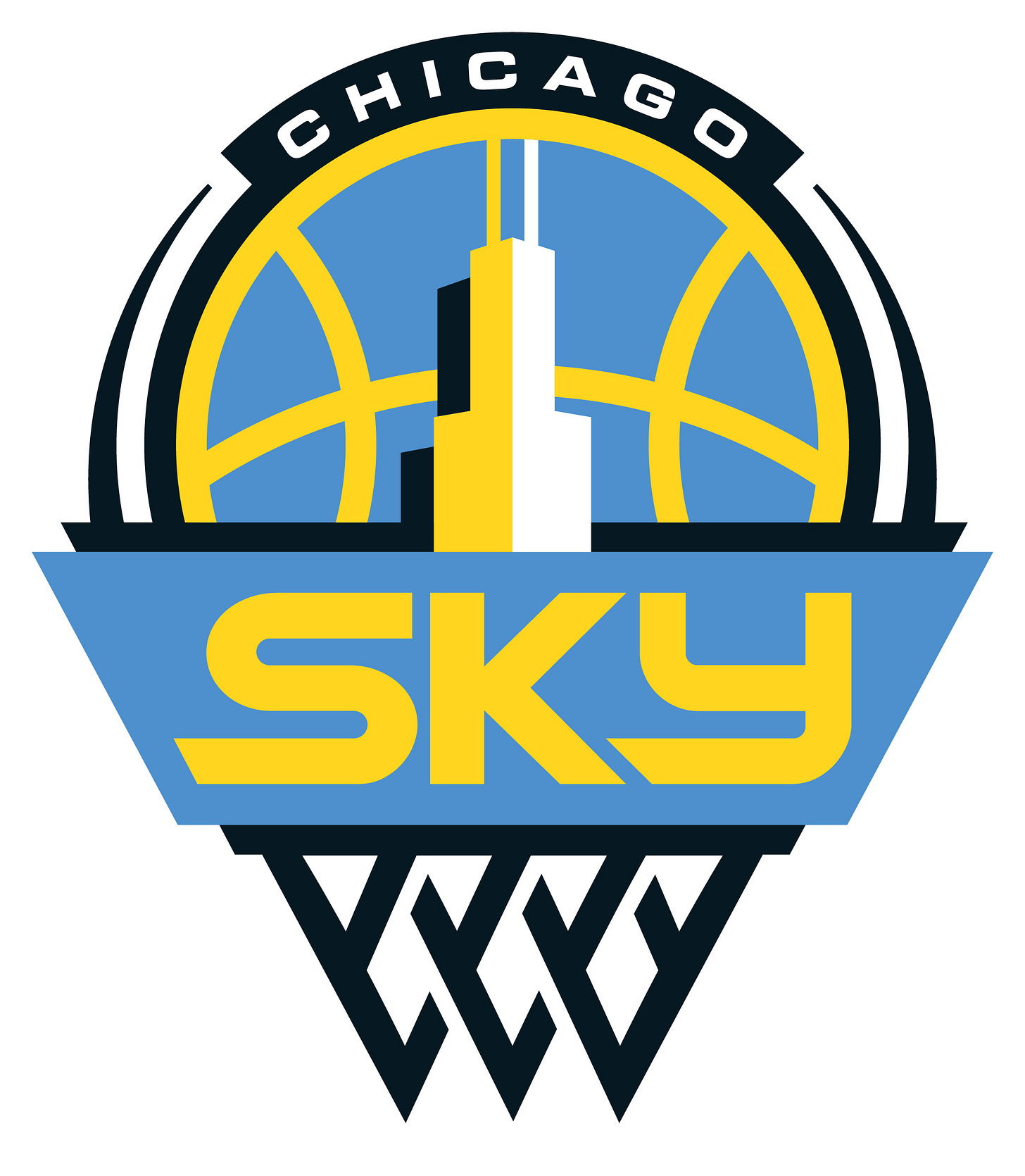 Chicago Sky
Head coach and general manager James Wade (second season)
2019 record: 20-14 (5th); eliminated in round two by Las Vegas
Additions (4)
Sydney Colson, Azurá Stevens, Ruthy Hebard, Stella Johnson (signed to replace Colson)
Departures (4)
Astou Ndour, Kayla Alexander, Katie Lou Samuelson, Jamierra Faulkner
Opt-outs (1)
Kiah Gillespie
Predicted depth chart
PG: Courtney Vandersloot / Sydney Colson (currently not with the team) / Stella Johnson
SG: Allie Quigley / Kahleah Copper
SF: Diamond DeShields / Gabby Williams
PF: Azurá Stevens / Jantel Lavender (out for season—foot)
C: Stefanie Dolson / Cheyenne Parker / Ruthy Hebard
Rotation questions/battles to watch
The status of Colson is obviously a big thing to monitor—if and when she joins the team in Florida. I loved the decision to sign her. She fits in great as their backup point guard. In the interim, does Johnson get those minutes, or will Williams wear that hat?
Stevens can really elevate this team's ceiling. The team really needs her to perform right away because of Lavender's injury. With four healthy bodies up front, how will Wade fill those 80 minutes? Williams may slide up to help out here, too.
One big positive of re-signing Copper: They can count on her behind Quigley and DeShields, so moving Williams around to play some backup point guard and/or power forward won't hurt them a ton on the wing if that's the route they end up taking.
Key developmental storyline to watch
Stevens, Stevens, Stevens.
This should be one of the biggest storylines in the WNBA. I understand what Dallas did this offseason as they acquired Ndour (and later drafted Bella Alarie), but the decision to deal Stevens could really blow up in their face. Everybody is searching for this kind of forward: long, skilled and fluid with shooting touch. Yes, Dallas ended up with Ndour. But could they have ended up with both? And doesn't Stevens have an even higher ceiling?
Related: Chicago didn't have to move on from Ndour—with the obvious caveat that maybe she did make it known behind the scenes that she explicitly did not want to return to Chicago. Yes, the Sky, like many other teams, faced some tough decisions to stay under the cap. Keeping Ndour was a possibility. They chose a different route.
Having two bigs that can credibly space, to me, is what really made their offense sing. The decisions you have to make loading up for Vandersloot and DeShields become exponentially more difficult when the paint is empty. Help defenders must cover more ground, putting the defense at a greater risk to give up open 3-pointers.
Take a quick glance at the frontcourt rotation. Parker has begun stretching her game out a little bit. Hebard didn't do any of that in college. Stevens has more defensive upside than either player. The success of the Stevens-Dolson pairing is the most important thing to watch for this season.
Best five: More times than not, what will their best lineup be in crunch time?
Vandersloot / Quigley / DeShields / Stevens / Dolson
The Sky took some important strides last season to clean up the turnovers and get out of the cellar defensively. Stevens will bother a lot of shots around the rim and has the skill set to face up, shoot, drive and crash the offensive glass. Viewers are eager to see what the "next step" might look like for DeShields—one of the league's most exciting 25-and-under stars.
Number to know: 24.4
That was their league-leading number of attempts per game from the restricted area last season according to WNBA.com. The Vandersloot + DeShields + shooting bigs triumvirate had its hands all over that total.
The idea of setting your defense has almost become purely aspirational against the Sky. Vandersloot is always probing. The All-WNBA PG gets into pick and rolls early, even after made baskets. Paired with a stretch 5 in Dolson, you're always making tough decisions. Oh, all five players didn't hustle getting back? Vandersloot makes you pay, often by getting her team a layup.
The Sky also have DeShields—always ready to beat everybody down the floor, or run right around whoever does get back, as the league's most dangerous one-woman wrecking crew. The most disciplined teams can limit the damage Vandersloot, DeShields & Co. do in transition. But teams always have to be on high alert knowing the threat is there. Games can unravel in just a few possessions because of them.
Here's your tell: What their offseason told us about the direction of the franchise
Wade gave his team a chance to run it back. Simple.
He had a lot of balls in the air this offseason, and one bad break may have had a negative domino effect. They re-signed Vandersloot, Quigley, Dolson and Copper to reported two-year deals while shoring up the backcourt by adding Colson in free agency. That's a genuine cause for celebration, especially without a ton of time to process and react to the new collective bargaining agreement.
I touched on the Ndour piece of their offseason. And to be clear, I wasn't taking a shot at Wade or how he handled that. I just think it's important to make that distinction. I happened to really like the path Wade found to re-sign Copper and trade for Stevens. But maybe some feel Ndour should have been a bigger priority. That's fair! That one thing can create an entire branch of compelling offseason content.
Zooming out, I've pointed to 2020 and 2021 as a two-year window for the Sky because of the length of those deals of the four players they re-signed along with the decisions they'll need to make as DeShields, Williams and Stevens hit restricted free agency. I'm not saying the window to contend is closed after 2021, to be clear. After the decisions made back in February, we're gonna get a chance over these next two years to see how far this core can get.
One offseason 'What if…?'
This one's easy. What if they matched the Ndour offer sheet to make her the starting power forward? Those ripple effects would reach Dallas, of course. Which team is Stevens suiting up for in 2020 in this scenario? Would it still have been possible for the Sky to acquire Stevens? Would they then go in a different direction with the No. 8 pick?
One idea (not really) out of left field for the 2020 season
What's best for Gabby Williams? I think this is an interesting question to raise because it has always been so natural to do the opposite.
It's easy to see how her versatility can help the team. This season more than ever, having a player that can slide between positions will be vital. Teams get 12 roster spots. That's it. And some teams, Chicago included, won't even have 12 from the start. But even as somebody who was high on Williams going into the 2018 draft, I still wonder what her ideal role looks like, and if that butts heads at all with the fact that she is capable of checking multiple boxes for the Sky.
So, no take here. Not even a hunch. Just a question worth looking back on as the Sky look to build on an exciting and encouraging 2019 campaign.
---
Stay tuned for more season preview content all week here on Floor Game. Sign up for Floor Game for free today to get every edition straight to your inbox:
Click here to visit the homepage where you can catch up on all past editions and this week's season preview content. You can share this post with a friend with this button:
You can email me (SplitThePost@gmail.com) or reach me on Twitter (@Ben_Dull) with your questions, feedback, etc. This is a free, independent newsletter. Help it grow by telling your friends to sign up, too: